By Chris Maroleng
Amidst the complex web of South African politics and economics, the true underlying challenge lies not in the burdens of colonial and apartheid legacies, but in the predatory and feeble nature of the post-apartheid state.
It's time to confront the uncomfortable truth—our state fails to fulfil its duties effectively and instead resorts to blaming imagined problems. This tactic serves as a smokescreen for our government, distracting from the urgent call for self-improvement and allowing racial tensions and misplaced nationalist prejudices to flourish, eroding national unity.
Yet the state's errors are far from limited to rhetoric. From attempting to close borders in an ill-conceived pursuit of populism to engaging in redistributive methods akin to Zimbabwe's disastrous smash-and-grab tactics, we witness the catastrophic consequences of blundering governance. The intricate web of relationships and networks that constitute modern capital renders such approaches disastrous. A single blow to the supposed pillars of so-called "white monopoly" and "western" capital sets off a chain reaction of economic collapse, burying all of us under the rubble.
Despite the allure of spectacle and nationalistic fervour that accompanies ideas and ideologies fuelled by "radical economic transformation", it's time to reject such reckless and unnecessary actions. Land reform and redistribution should be approached systematically, avoiding unnecessary turmoil and ensuring equitable distribution to benefit the entire nation. Instead, we watch as post-colonial African states succumb to the pitfalls of weak governance and populist agendas that ultimately serve their leaders' and political parties' self-preservation rather than the welfare of the people.
While we acknowledge South Africa's accomplishments thus far, including social grants, multiparty democracy, and an independent judiciary, we must confront our failures head-on. The crumbling state capacity, the rampant crime undermining every corner of society, the crippling burden placed on the middle class, and the decline in healthcare and educational standards demand our urgent attention.
To forge a brighter path, rescuing and revitalising the middle class must become our priority. This socially dynamic group drives economic growth by absorbing the poor, providing a market for businesses, and supplying the state with the necessary capacity. Neglecting the middle class and the youth in particular sets off a ticking time bomb of deepening poverty and social unrest.
Revamping our approach to black economic empowerment (BEE) by focusing on supporting small and medium-sized enterprises (SMEs) is another transformative step. By nurturing the organic growth of these businesses, we can foster job creation and sustainable economic progress more effectively, liberating ourselves from the failed "fat cat" and top-down approach to BEE of the past.
Investing in state capacity becomes a non-negotiable requirement for rebuilding our governance structures. Every level, from government departments to state-owned enterprises and social institutions, demands attention. Only through this systemic overhaul can we address the crippling weaknesses that hinder our progress.
Breaking free from the confines of a nation-state lens, we must envision South Africa as a dynamic regional catalyst with vast potential for accelerating infrastructure development and regional integration. Let us expand beyond the border towards a shared prosperity that transcends isolationism. The imaginative mastery of long overdue ideas such as a proposed "Mbeki Express" high-speed rail, linking African nations, can unlock new opportunities for economic growth and cross-border collaboration.
Lastly, we must tackle the pressing issue of energy with a laser-like focus on Eskom and a genuine commitment to a just energy transition. The cost of an unstable and unsustainable energy supply is more than just a luxury, and goes far beyond economic repercussions—it affects the lives of every South African. Hence, it becomes imperative to ensure a stable and sustainable energy future.
In summary, the time for South Africa to confront its deepest flaws head-on is now. It demands a profound shift towards a transformative, sophisticated, and solutions-driven approach. It transcends party politics and necessitates the active involvement of progressive civil society, acting as midwives for change. This new path of transformation rejects reckless tactics and populist agendas. It places emphasis on the revival of the middle class, empowering our youth, fostering the growth of SMEs, investing in the creation of a truly capable state, fostering regional integration, and conquering the daunting energy crisis.
South Africa's destiny lies in our hands. It is a call to action to recreate a truly transformed and dynamic nation. Let us rise above our challenges before it becomes too late, and establish a future that embodies the renewal of South Africa—one that is just, inclusive, prosperous, and worthy of our collective dreams.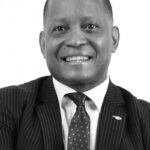 Chris Maroleng is the international CEO of Good Governance Africa. He is an accomplished public and corporate affairs practitioner with close to 20 years working experience, specialising in strategy, research, media, communication, security, corporate governance and public affairs. Prior to his GGA appointment, Chris was the Chief Operations Officer of the South African Broadcasting Corporation (SABC), where he was responsible for the organisation's turnaround strategy, improving the SABC's cash balance, enforcing governance and driving efficiencies within the operations cluster, as well as promoting a performance culture for optimal outcomes. With a sound understanding of what drives a successful business, as Group Executive for Corporate Affairs at Africa's largest mobile operator, MTN, he assisted the company through a tumultuous period during which it was faced with a huge penalty that could have placed the organisation in an untenable situation. Chris also spent six years at eNews Channel Africa (eNCA), where he was Africa Editor, and head of department for the Africa division. As an integral member of the eNews founding management team, key among his successes during his tenure was the establishment of the eNews Africa division. Prior to joining eNews, Chris worked at the Institute for Security Studies (ISS) in the African Security Analysis Programme (ASAP), as a senior researcher in peace and security issues in Africa, and where he published extensive reports related to African affairs. Chris holds a MA in International and Comparative Politics from the University of Cape Town. He was also a Menell Media Fellow, at Duke University's Dewitt Wallace Center for Media and Democracy.