Two elderly homeless men unwrap a package of a significant quantity of cooked rice locally known as Pilau and tuck in. The scavengers found the freshly thrown-away food in a trash bag left unattended in a suburb of the Kenyan capital, Nairobi.
One of the scavengers, Luis, told Africa in Fact that he and his friend were poor and homeless and had not eaten good food for weeks. "It is our lucky day," Luis said. "God answered our prayer. We were nearby when we saw a lady disposing of the package. We waited until she'd finished and pounced on it."
Overwhelmed by the quantity of "unwanted" food increasingly found in trash cans and bin bags across Kenya, community leader and environmentalist Amos Kariuki has urged the government to launch media campaigns to raise awareness about the issue. "To throw away such huge quantities of food in this country of ours, where thousands of people are dying of hunger due to drought, higher taxes, and extreme poverty amid the Russian invasion of Ukraine, is immoral and pure evil," he told Africa in Fact.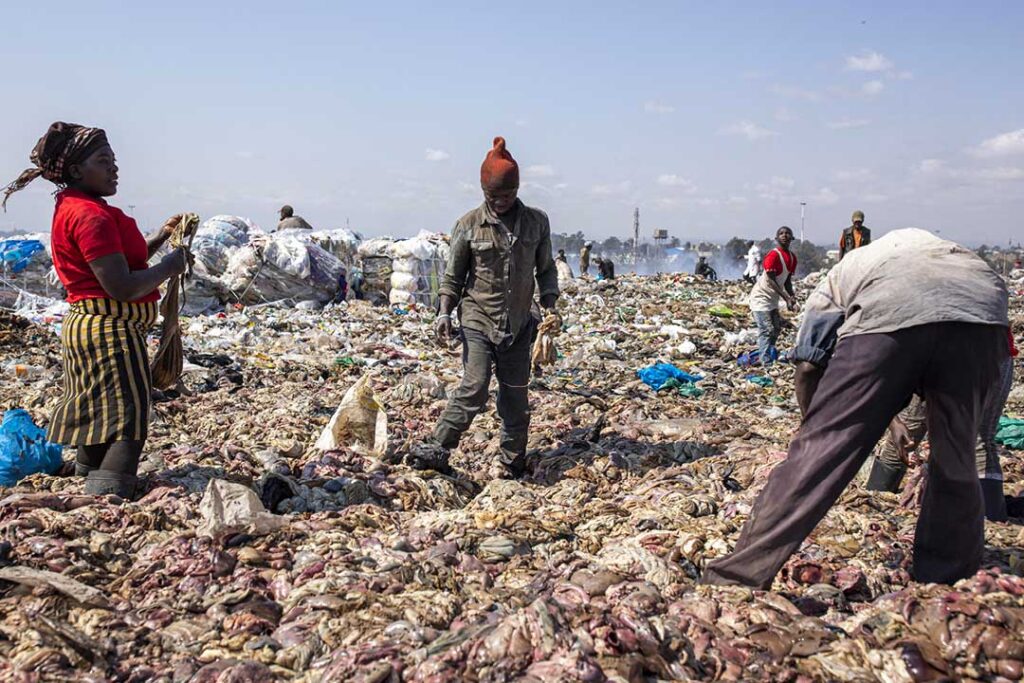 His concerns are echoed in the United Nations Environment Programme and Waste and Resources Action Programme (WRAP) 2021 Food Waste Index report, which reveals that every Kenyan throws away an average of 99 kg of food every year.
In addition to household waste, Practical Action, an international development organisation, estimates that up to 40% of Kenya's food is lost after it has left the farm and before it's bought by consumers, contributing to the country's food insecurity. Reasons include delays in getting the food to market and a lack of adequate transportation and storage facilities.
As Practical Action notes, unsold fruit and vegetables from Nairobi are often dumped. Left to decompose, they pollute the streets and are an additional burden on the city's already stretched waste collection systems.
Drought-prone Kenya, Africa's eighth-largest economy ($115.99 of Gross Domestic Product in 2022), is also experiencing severe episodes of disruption to its weather patterns due to global warming.
The number of Kenyans facing acute food insecurity and requiring humanitarian assistance increased from 3.5 million to 4.4 million by July 2022, according to figures from the National Drought Management Authority (NDMA) published in June this year. According to the International Rescue Committee, some 970,000 children aged between six and 59 months and 142,000 pregnant or lactating mothers in Kenya were suffering from acute malnutrition over the course of 2023 and needed treatment, adding that more than 2.4 million livestock that pastoralist families relied on for nourishment and livelihood had died.
In the face of these statistics and skyrocketing food prices, Kenya this year has experienced several deadly anti-government demonstrations to protest the rising cost of living. In July, for example, a series of protests in Nairobi and other major cities against tax hikes and the end of subsidies, that led to price increases for basic commodities such as food and fuel, turned deadly after the police response left at least two protestors dead and hundreds more injured. For more fortunate families, however, it was business as usual, filling up trash cans with unwanted food.
"Waste is a huge and growing priority for African cities as it can represent up to 35% of Global South cities' overall emissions, primarily from methane generated at dumpsites and landfills," Hastings Chikoko, the regional director for Africa at C40 Cities, told Africa in Fact. "Therefore, targeting food waste and reducing the resulting methane emissions is critical for cities to take meaningful climate action.
"When organic waste decays in landfills, it produces methane, an extremely potent greenhouse gas. Waste accounts for 31% of total emissions in Nairobi, and as much as 60% of the city's waste is organic. The city is taking action by developing treatment capacity for organic waste across city markets to produce near-term climate benefits. This could lead to higher waste collection efficiencies for the city's waste sector and a cleaner city for citizens.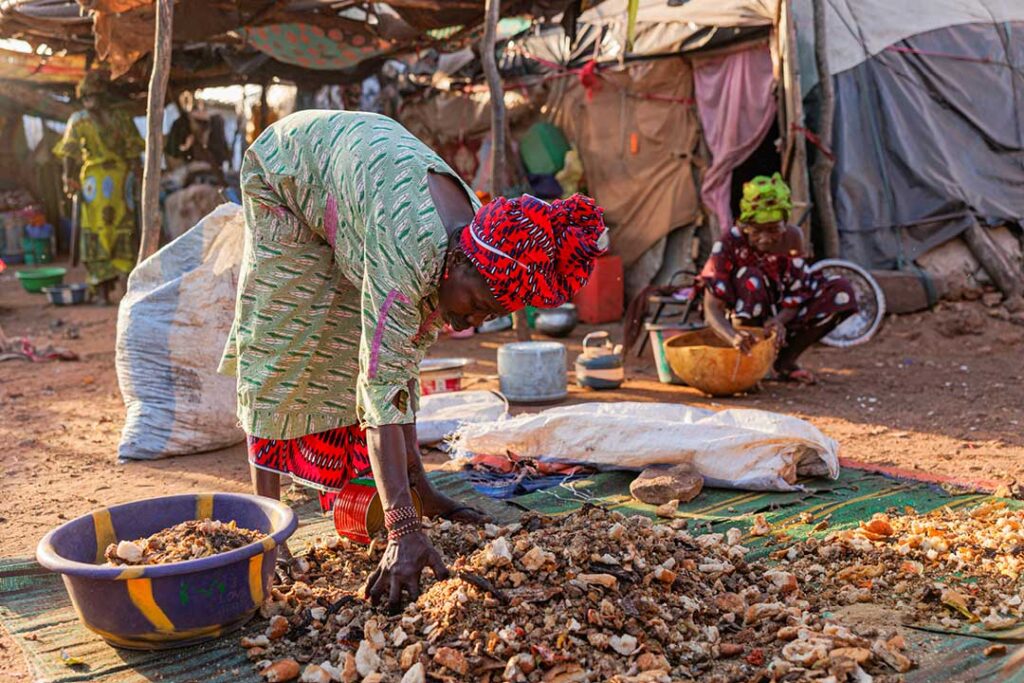 "Just last year, in October 2022, seven African cities from a total of 13 global south cities signed the C40 Pathway Towards Zero Waste, a city-level strategy to improve waste management practices and reduce methane emissions," he added.
The signatories included Accra (Ghana), Amman (Jordan), Buenos Aires (Argentina), Curitiba and Rio de Janeiro (Brazil), Dar es Salaam (Tanzania), Dhaka South (Bangladesh), Durban, Tshwane, and Ekurhuleni (South Africa), Freetown (Liberia), Nairobi (Kenya), and Quito (Ecuador).
However, Chikoko cautioned that Africa, facing some of the worst effects of the climate emergency, was facing a food and nutrition insecurity crisis that could not be solved by only addressing food waste, even if it was an important piece of the puzzle.
"Food system resilience is key to addressing the crisis, and this will require building robust, sovereign, sustainable food economies with strong urban-rural linkages that can support diversified indigenous diets. Cities are playing an important role in making sure that all residents have access to healthy, nutritious, and sustainable food," he explained.
"While we cannot fully control all the external forces affecting food and water systems, such as geopolitical events, cities can take proactive action to secure their futures. By intertwining awareness, preparedness and transformative measures, African cities can chart a resilient and sustainable path forward in these uncertain times."
Apart from recommending the redistribution of surplus food to those in need to reduce waste, Chikoko also recommended a "food rescue" approach, which, he said, was suited to fresh produce markets and grocery stores, with some potential for food rescue in the restaurant and institutional food service sectors through prepared meals. Other food waste reduction strategies, including purchase planning and food storage, were suited to household food waste reduction, he added.
As the debate about food security rages in Africa, the Brookings Institution has pointed out that food sovereignty in Africa is not just about production and trade but also about resilience and ensuring that the continent's food production is not held hostage by natural and market shocks.
"The use of technology, fertiliser, and improved farm management practices could revolutionise Africa's food sector," the think tank noted in its Foresight Africa 2023 report. "In addition, African countries must take steps to reverse their dependence on food aid and food imports. Free or cheap food imports have made local food production in Africa less competitive and, in turn, shifted consumer preferences away from local brands to foreign ones."
Chikoko pointed out that local government had a vital role in building resilience and successfully implementing mitigation policies and projects. "Municipal governments are major asset owners and procurers of goods and services," he said. "They own land, buildings, and vehicle fleets, construct new buildings and infrastructure, and are often among the biggest purchasers of food and energy in a city, for instance.
"Decisions about municipal assets and procurement can catalyse change in key sectors across the city and beyond, as well as bring down the city's own emissions and exposure to climate risk," Chikoko said.